Event
Now Playing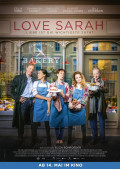 LOVE SARAH  (engl. OV) Determined to fulfill her late mother`s dream of opening a bakery in charming Notting Hill, 19-year-old Clarissa enlists the help of her mother`s best friend Isabella and her eccentric estranged grandmother Mimi.
THE PHOTOGRAPH (engl.OV) On Valentines Day, Issa Rae (HBOs Insecure, Little) and LaKeith Stanfield (FXs Atlanta, Sorry to Bother You) connect in a romance where a woman must learn from the secrets in her mothers past if she is to move forward and allow herself to love and be loved.
NEW MUTANTS (engl.OV) Five young mutants, just discovering their abilities while held in a secret facility against their will, fight to escape their past sins and save themselves.
AFTER TRUTH (engl. OV) Tessa has everything to lose. Hardin has nothing to lose. - except her. After We Collided - Life will never be the same. After a tumultuous beginning to their relationship, Tessa and Hardin were on the path to making things work. Tessa knew Hardin could be cruel, but when a bombshell revelation is dropped about the origins of their relationship...

Alle Infos, Trailer & Tickets:
» Love Sarah (OV) » The Photograph (OV) » The New Mutants (OV) » After Truth (OV)